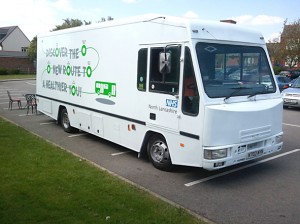 Despite the return of English spring weather, this month the 'Check it Out' campaign has hit the road in style with its very own customised Health Bus. The campaign has been designed by Perfect Circle and NHS North Lancashire to deliver a targeted prevention for men in North Lancashire, in partnership with health professionals. The campaign provides personalised early stage health checks and treatment programmes that are designed to prevent premature deaths from circulatory disease and bowel cancer.
The bus, which has been fitted with state-of-the-art equipment and consultation facilities, is being be used to visit the region's largest employers to bring health services to the men of North Lancashire in a convenient and mobile unit. This campaign was developed to address the barriers then men have to addressing their health and wellbeing, such as stoicism and reluctance to confront the issue of cancer, the inconvenience of booking appointments, a perception of frontline health professionals as a last resort, and hostility to doctors criticising lifestyle choices (e.g. smoking) .
This new initiative from NHS North Lancashire, offers men a quick, no-fuss blood pressure, height, weight and body mass index checks. They also give out free information and advice on healthier lifestyle, getting moving, alcohol and smoking PLUS access to health professionals in an informal way, at a handy time. For more information visit www.check-it-out.me or e-mail.