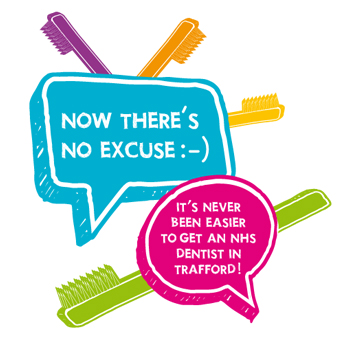 In April 2011, the Dental Access, social marketing campaign, commissioned by Trafford PCT and titled 'Now there's no excuses' came to a successful close, following on from the final outreach events with campaign partner Sainsbury's.
The campaign, designed and managed by social marketing agency Perfect Circle was created to direct new patients to register with an NHS Trafford dentist by March 2011 and also educate the target audience on the availability of dental places within Trafford.
The campaign successfully secured over 1700 patients, each registering their details with a partner dental practice within Trafford and contributed to Trafford PCT achieving its 60% of Trafford residents having seen an NHS dentist, two months in advance of their March 2011 deadline.
Erin Portsmouth from Trafford PCT said, "We had clearly defined targets and outcomes for our Dental Access campaign, primarily to ensure that 60% of our residents had seen an NHS dentist by March 2011. To deliver these targets we appointed Perfect Circle as our social marketing agency and have been impressed by their methodical approach and the outcomes that they achieved. We would also like to thank the campaign partners introduced by Perfect Circle, specifically Sainsbury's and Stretford Mall.
To discuss this social marketing campaign or any other campaigns that you have seen on the Perfect Circle website then please call 01706 373440 or e-mail us.