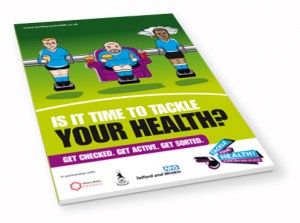 If you're a MAN between 30 – 74 years of age then tackling your health has never been easier, following the launch of the Tackle Your Health, social marketing campaign, commissioned by Telford & Wrekin Council and managed by social marketing agency Perfect Circle.
This innovative campaign is designed to direct men 30-74 towards their very own Professional Health Trainer that can be accessed for Free. The Health Trainers provide a 1-to-1 programme that commences with a Lifestyle Check, to *sensored word - inappropriate language* the condition and set realistic goals for the target audience. The Health Trainers then work with the target audience, helping them to engage in a range of healthy activities that will improve their fitness and enjoyment of a healthier lifestyle.
The Tackle Your Health campaign has brought together a team of organisations that has enabled the campaign to reach out and engage with the local community. From Schools to Supermarket participation, through to local businesses and at its heart AFC Telford Utd that is hosting a range of community engagement activities. These include healthy eating events, football coaching sessions with Ex England International 'Andy Sinton' as well as competitions, motivational speakers and a behind the scene's football experience.
This successful community based social marketing campaign has been active since March 2011 and is on course to achieve its targeted outcomes, with 1/3 its Lifestyle Check target having already been secured, well in advance of the March 2012 deadline.
For more information, visuals or examples of campaign activities then please gives us a call on 01706 373440 or email us.