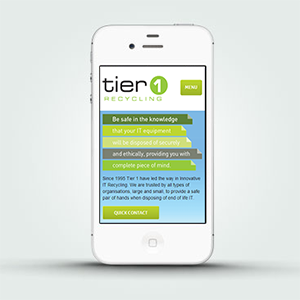 With the smartphone now dominating the mobile phone market, it isn't surprising to see that people are now accessing online content through their mobile device. Mobile web browsing had been an uncommon luxury for most users until the past 4 or 5 years, but since the arrival of the 3G network, percentages have steadily increased with overall online usage doubling since 2009. With the early arrival of the 4G network, it is obvious that web designers and developers will have to cater for mobile browsing as users are now requiring access to websites and services that are presented clearly on their mobile device.
With the development of Mobile browsing, companies now cannot simply offer a smartphone app to attract the mobile market they must make sure that their website is easily viewable on any mobile device. Mobile Websites can be a great way of communicating with users in an immediate and focused manner, with your website presented clear and concise way.
Optimizing websites for usage on devices however can be challenging. The skill of being able to deliver as much useful content as possible yet refining the website design to fit a smaller screen forces you to think about what information on your website is really important. All this while keeping the design and structure clear for the user! However daunting this task is, it is worth a company's while to undergo this process. A recent study conducted by Pew Internet Research* found that the most probable age band to be browsing the internet on a mobile device is younger adults. And for many of the younger market, their mobile device could possibly be their primary device for mobile browsing.
For an example of how Perfect Circle are keeping with trend and optimizing company websites for mobile devices, please visit Tier1 Recycling's company website at www.tier1recycling.com Teir1 is a Perfect Circle client that we worked with to create a new and modern responsive website that will automatically scale to various mobile device sizes, i.e. laptop, tablet, mobile phone.

For more information on the mobile market survey Pew Internet Research conducted, please see their Cell Internet Use Survey PDF