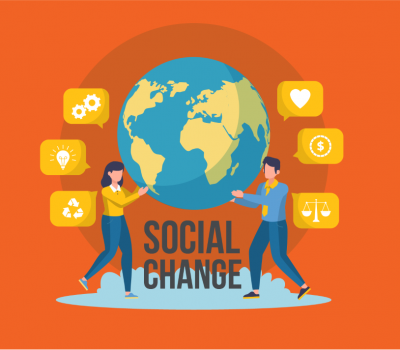 When it comes to social change or behaviour change marketing, it is essential to understand human behaviour. Why do we make certain decisions or behave in a certain way? This is where behavioural science comes in.

Behavioural science is the study of human behaviour covering everything from decision-making to the actions people take in different situations to what motivates them. Combining psychology and sociology, behavioural science plays a crucial role in developing and implementing behaviour change campaigns.

The vital role of behavioural science in social change campaigns

All marketing is about influencing people's behaviour. Traditional marketing is focused on influencing the decision to buy a product or service, whereas social change marketing or behaviour change marketing is focused on changing how someone behaves.

By understanding your target audience's motivations for change as well as what influences their behaviour can help you develop more effective social change strategies for your campaigns. Behavioural science can help determine how your audience will likely respond and can help you create more engaging and persuasive campaigns that motivate change for the better.

So whether your campaign is designed to encourage people to live healthier lives or make changes to their energy consumption, introducing the principles of behavioural science can help your campaign be more successful and drive better results.

Applying behavioural science to your social change campaign

As experts in behaviour change in the North West, we can help you apply the principles of behavioural science to your social change marketing campaigns. We can help you:

● Understand how your target audience makes choices so we can tailor the campaign environment to motivate change.

● Provide social proof through video testimonials to help encourage people to follow the actions of others.

● Create engaging campaigns that focus on the positive benefits of change rather than the negative benefits of doing nothing. Gamification can be a great way to make campaigns more effective and inspire behaviour change.

Behaviour Change North West: Our Expertise

We've been creating highly successful social marketing campaigns for our customers for over two decades. We love our work and use the latest marketing communication tools and most current segmentation and customer insight techniques.

This allows us to develop and integrate marketing concepts with other approaches to influence behaviour that benefits individuals and whole communities – for the social good.

Within our team, we have leading nationally recognised academic professionals within Psychology, Mental Health and Cognitive Behavioural Therapy that advise what messages and mediums will deliver the best response when we scope out a communications campaign or deliver any targeted communications.

This provides our clients with the reassurance and confidence of knowing that their communication objectives are underpinned by recognised academic behavioural theory, executed with award-winning creative design and using the latest Marketing Automation communication tools, whether it's on a local, regional or national project.

Perfect Circle has delivered social change for clients like schools, local government, not-for-profit organisations, the health sector and niche commercial businesses, and we're really proud of what we've done so far.

If you'd like our help on your next Behaviour Change Marketing or Social Marketing campaign, we'd love to hear from you. Please visit our contact page and get in touch.
No tags where found.